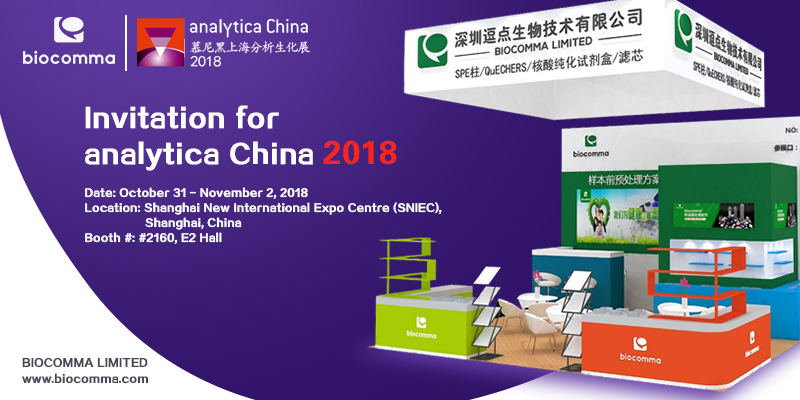 analytica China 2018
At analytica China 2018 slated to be held on October 31 to November 2, 2018 in Shanghai, Biocomma will showcase several innovative sample preparation product lines. You are welcome to visit our booth.
Date: October 31 - November 2, 2018
Location: Shanghai New International Expo Centre (SNIEC), Shanghai, China
Booth: #2160, E2 Hall
Read More...
Food Safety

Food Safety
Biocomma provides a comprehensive food safety solution, with products including solid phase extraction (SPE) cartridges, QuEChERS kits and other chromatographic consumables.
Oligo Synthesis

Oligo Synthesis
Biocomma provides a comprehensive oligo synthesis solution, with products including EmbedTM CPG Frits, oligo synthesis columns and 384-well plates for gene synthesis.
Household Goods Safety

Household Goods Safety
Biocomma has been developing products to help improve household goods including clothing, food, housing and vehicles, thus enabling people to live healthier and better.
Our products are used to determine banned azo dyes in textile, to determine Cr(VI) in leather, to determine hazardous ingredients in cars, to protect and purify drinking water.
Nucleic Acid Purification

Nuleic Acid Purification
Biocomma provides a comprehensive nucleic acid purification solution, with products including CommaXTM nucleic acid extraction & purification kits, cartridges and magnetic beads.
CommaXPTM nucleic acid extraction & purification kits are suited for applications such as plasmid preparation, blood genomic DNA extraction and plant genomic DNA extraction.
About Us
Biocomma Limited, founded in 2006, is a leading manufacturer of filtration, sample preparation and life science products.
Biocomma owns one filter manufacturing facility, two cleanrooms and one research & development center, supplying more than 1,500 products. Based on ERP system, we implement strict quality criteria, enabling full traceability.
Biocomma has been certificated as an ISO9001:2015 company and a China's national high-tech company.
Biocomma products are widely used in many areas such as gene detection, new drug discovery, clinical diagnosis, food safety, environmental protection, industrial material detection and life science. For the past ten years, we have served over 4,000 customers and provided OEM and custom services for dozens of well-known brands around the world.