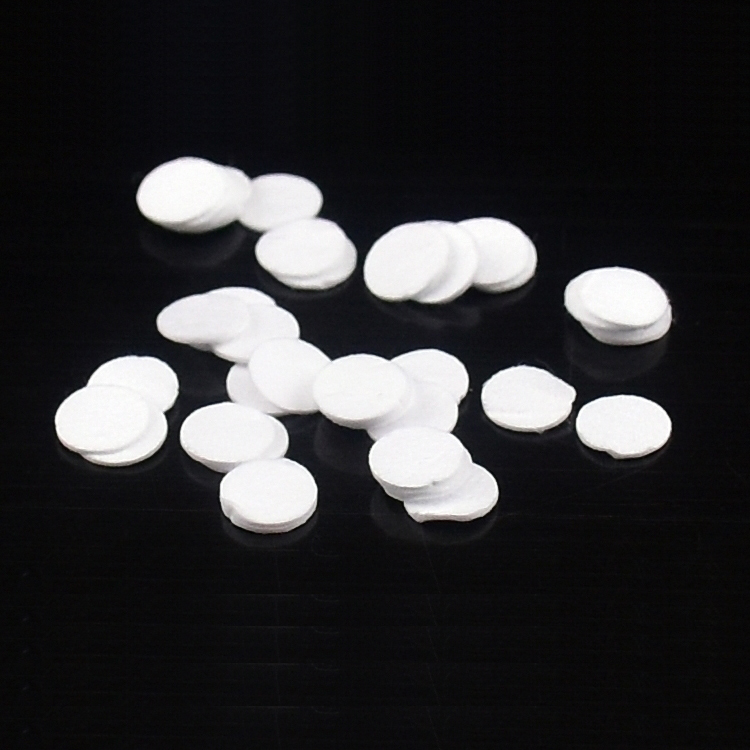 Details
Polypropylene fiber filter is often used in some special biology applications.
PP Fiber Filter
Polypropylene fiber filter is made of polypropylene fiber suppression , resistant to acid and most organic solvents, won't produce adsorption to most of biological molecules.
Thickness 1.0mm pore size 5μm.

The diameter can customized.

In some applications, the cost was lower than those of ultra-high molecular weight polyethylene filter.

Order Information:
| Cat.NO. | Material | Description of frits | Package(Pcs/PK) |
| --- | --- | --- | --- |
| F-FP-194 | Paper filter | Diameter19.4mm,round-shaped filter paper,suitable for 20ml filter | 10,000 |
| F-MF-070 | Mixed fiber | Mixed fiber filter,diameter 7.0mm,thickness 1.0mm,pore size 5μm | 10,000 |
| F-MF-072 | Mixed fiber | Mixed fiber filter,diameter 7.2mm,thickness 1.0mm,pore size 5μm | 10,000 |
| F-MF-091 | Mixed fiber | Mixed fiber filter,diameter 9.1mm,thickness 1.0mm,pore size 5μm | 10,000 |
| F-MF-128 | Mixed fiber | Mixed fiber filter,diameter 12.8mm,thickness 1.0mm,pore size 5μm | 10,000 |
| F-MF-132 | Mixed fiber | Mixed fiber filter,diameter 13.2mm,thickness 1.0mm,pore size 5μm | 10,000 |
| F-MF-196 | Mixed fiber | Mixed fiber filter,diameter 19.6mm,thickness 1.0mm,pore size 5μm | 10,000 |
| F-PP-060 | pp | PP membrane 6.0mm | 10,000 |
| F-PP-072 | pp | PP membrane filter 7.2mm | 10,000 |
| F-PP-078 | pp | PP membrane 7.8mm | 10,000 |
| F-PP-080 | pp | PP membrane 8.0mm | 10,000 |
| F-PP-090 | pp | PP membrane 9.0mm | 10,000 |
| F-PP-091 | pp | PP membrane 9.1mm | 10,000 |
| F-PP-124 | pp | PP membrane 12.4mm | 10,000 |
| F-PP-145 | pp | PP membrane 7.45mm | 10,000 |
| F-PP-162 | pp | PP membrane 16.2mm Thickness1.0mm Pore5μm | 10,000 |
| F-PP-171 | pp | PP,Φ17.10mm Thickness1.0mm Pore5μm | 10,000 |
| F-PP-196 | pp | PP,Φ19.6mm,Thickness1.0mm,Pore5μm | - |
| F-SS-045 | Stainless Steel | 005101 Φ4.5mm Thickness1.0mm Pore2μm | - |
| F-SS-046 | Stainless Steel | 005102 Φ 4.6 mm Thickness 1.0 mm Pore 2μm | - |
| F-SS-F01 | Stainless Steel | | - |
| Y-SM-HZ | pellosil | pellosil,10*290mm | - |
Contact Us
| | |
| --- | --- |
| Contacts : | Biocomma Limited |
| Phone : | 0086-755-25431879 |
| Fax : | 0086-755-25498726 |
| Email : | commashop08@biocomma.cn |
| Address : | Ground FL, Bldg. 12, Zhonghaixin Innovation Industrial Center, 12 Ganli 6th Rd., Ganli Industrial Park, Jihua St., Longgang Dist., Shenzhen, Guangdong, 518114 P.R. China |