Virus DNA/RNA Extraction Kits (Pre-packed Magnetic Beads) could be used to extract DNA/RNA from virus of blood, animaltissue, saliva, snot and environmental samples, ect.Relevant reagents were pre-packed in 96-well plates inaccordance with the optimal protocol. This kit could beused with nucleic acid extraction instruments to achieveautomated, high-throughput nucleic acid extraction.
Features
Relevant reagents were optimized for the instrument to ensure extraction efficiency.

Reagents were pre-packed for Rapid, efficient, high throughput nucleic acid extraction.

Buffer system does not contain toxic substances such as phenol and chloroform.

The samples can be cleaved and extracted directly without heating during experiment.

Applicable to various kinds of automated nucleic acid extraction instrument.

The CV value of extracted nucleic acid concentration and purity is less than 5%.
Parameter
| | |
| --- | --- |
| Parameter | Description |
| Sample Volume | 100-200 μL |
| DNA Yield | 3-10 μg |
| DNA Purity | OD260/OD280: 1.9-2.1 |
| Extraction time | 25min for M32, 32 samples/round; 25min for M96, 96 samples/round |
| Instrument | M32/M96 Nucleic Acid Extraction System |
Experimental Data
Get virus DNA from ASFV positive samples, FQ-PCR experiment result.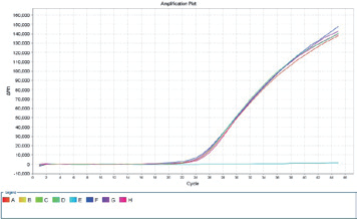 Order Information
Cat. #

Description

Qty.

BNP027-2E

Virus DNA/RNA Extraction Kits (

Pre-packed

Magnetic Beads, MB32)

32 Prep/Kits

BNP027-3E

Virus DNA/RNA Extraction Kits (

Pre-packed

Magnetic Beads, MB96)

96 Prep/Kits