96-well PPRP (Protein Phospholipid Removal) Plate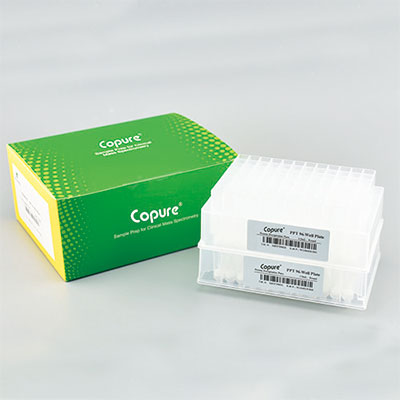 96-well PPRP (Protein Phospholipid Removal) Plate
Efficiently remove phospholipid and largelydecrease ion suppression.
Details
Copure ® 96-well PPRP plate could accomplish the protein perfectly precipitate with special non-drip membrane filter. The new innovative Lipoclean® sorbent in the plate cleanly removes the endogenous protein and effectively capture phospholipid interference to decrease ion suppression, which provides an ideal purification solution for lipidic samples and improve the analysis performance of target analyte.
Features
Efficiently remove phospholipid and largely decrease ion suppression
2-4 steps general procedures
Applied to TDM, forensic toxicology, endocrine study
Fig.1 Operation process of Copure ® 96-well PPRP plate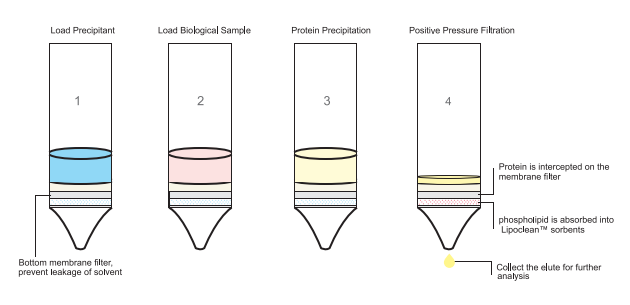 Fig. 2 LC-MS/MS of phospholipid
It can be seen that the response of phospholipids in figure B decreased by nearly two orders than in Figure A after treatment of biological samples with commasep PPRP, and the effect of phospholipids removal was very significant.
Order Information
| | | |
| --- | --- | --- |
| Cat. # | Description | Qty. |
| MPPRP9601 | Copure ® 96-well PPRP plate, 40 mg/1 mL | 1/Box |
| MPPRP9602 | Copure ® 96-well PPRP plate, 40 mg/2 mL | 1/Box |
Contact Us
| | |
| --- | --- |
| Contacts : | Biocomma Limited |
| Phone : | 0086-755-25431879 |
| Fax : | 0086-755-25498726 |
| Email : | commashop08@biocomma.cn |
| Address : | Ground FL, Bldg. 12, Zhonghaixin Innovation Industrial Center, 12 Ganli 6th Rd., Ganli Industrial Park, Jihua St., Longgang Dist., Shenzhen, Guangdong, 518114 P.R. China |