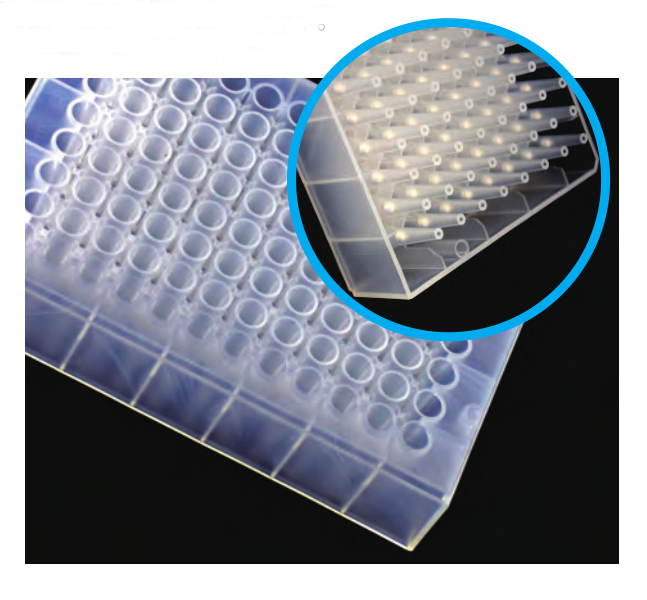 Precision Injection Molding OEM Service
Biocomma can offer OEM opening mouldservice of plastic cartridges and multi-well plates. Such as empty solid phasesynthesis cartridges for peptide synthesis, empty FPLC columns for proteinpurification under the medium and lower pressure, and 96/384-well plates forhigh throughput application.
Meanwhile we can offer flexible customizedfrits based on our porous plastic technology platform to meet all yourrequests.
Details
OEM Process:
Customer offer samples ordrawing to us for checking.

Confirm key parameters afteranalyzing customer's samples

Quote based on buyingquantity and opening mould situation then draft mould contract.
Offer detailed drawing andprint 3D sample after payment received from customer.
Officiallyopen mould after

3D sampleconfirmed. Normally the lead time of samples is 30-60 working days.

Orderproduction after formal sample confirmed.
Ouradvantages:
Productionraw materials: The raw material resin of our OEM plastic fitting is USP VIresin (USA National Pharmacopoeia Level 6) which can be used in medicalequipment field.
Productionmould: Our production mould using in OEM plastic fitting are customized andverified strictly according to SPI Classification 101, which can ensure ourproduct accuracy.
NOmould release allowed: OEM plastic fitting use high-end mould. We will not useany mould release agent and will not remain any chemical substances on theplastic surface, which can make sure testing sample not be contaminated.
Porousplastic technology: Based on our experienced porous plastic sinteredtechnology, we can provide one-stop OEM service by offering customized fritsand filters as your request.
Productionsystem: We are ISO9001 certified factory with high standard manufacturing quality control to make sureproduct cleanliness and not be contaminated by exogenous pollution.
Contact Us
| | |
| --- | --- |
| Contacts : | Biocomma Limited |
| Phone : | 0086-755-25431879 |
| Fax : | 0086-755-25498726 |
| Email : | commashop08@biocomma.cn |
| Website : | www.biocomma.com |
| Address : | Ground FL, Bldg. 12, Zhonghaixin Innovation Industrial Center, 12 Ganli 6th Rd., Ganli Industrial Park, Jihua St., Longgang Dist., Shenzhen, Guangdong, 518114 P.R. China |