Biocomma attended the 73rd China International Medical Equipment Fair (CMEF)
Biocomma attended the 73rd China International Medical Equipment Fair (CMEF)
2015-05-18 10:25:00
Biocomma

Original

4644
Summary :CMEF was Founded in 1979, it was hold at the annual Spring and Autumn, after 30 years of continuous innovation and self-improvement
CMEF was Founded in 1979, it was hold at the annual Spring and Autumn, after 30 years of continuous innovation and self-improvement, it has becoming the Asia-Pacific region's largest medical device and related products and services exhibition. The exhibition involving thousands of products such as medical imaging, in vitro diagnosis, electronics, optics, first aid, rehabilitation nursing, medical information technology and outsourcing services. Services in the medical profession from the source to the end the whole chain directly and Comprehensively.
Bioconma introduced the product detailedly at the exhibition, such as gene synthesis, nucleic acid extraction and purification, protein / antibody purification products and other industrial applications, including tip filters, Self-Sealing filter, immunoaffinity column, QuEChERS, SPE columns and other medical laboratory supplies and key accessories. The Self-Sealing filter can be used in blood sedimentation tube, blood, urine and other liquid waste collection bag. The resistance to pressure is 2-3 times than competitive product, the closed pressure >50kpa, giving the patient a more secure protection.
In this exhibition, many friends of the medical profession were very interested at our Self-Sealing filter,they thought that the filter can produce more products for the health industry, and can bring more opportunities to many medical companies.We also meet many friends and clients at this exhibition. WE believe that in the near future, our filter will be fully applied to the closed medical supplies among the medical environment because our products are greatly improved.
From product development to production and marketing and product customization, Biocomma laid a solid foundation after nine years, grasp the latest market trends in the international trade exchange,we are strive to become a top suppliers for medical laboratory.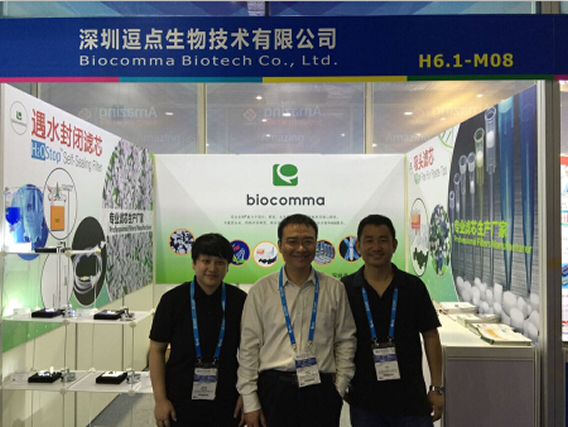 Contact Us
| | |
| --- | --- |
| Contacts : | Biocomma Limited |
| Phone : | 0086-755-25431879 |
| Fax : | 0086-755-25498726 |
| Email : | commashop08@biocomma.cn |
| Address : | Ground FL, Bldg. 12, Zhonghaixin Innovation Industrial Center, 12 Ganli 6th Rd., Ganli Industrial Park, Jihua St., Longgang Dist., Shenzhen, Guangdong, 518114 P.R. China |