biocomma® Multi-Channel Electronic Pipettes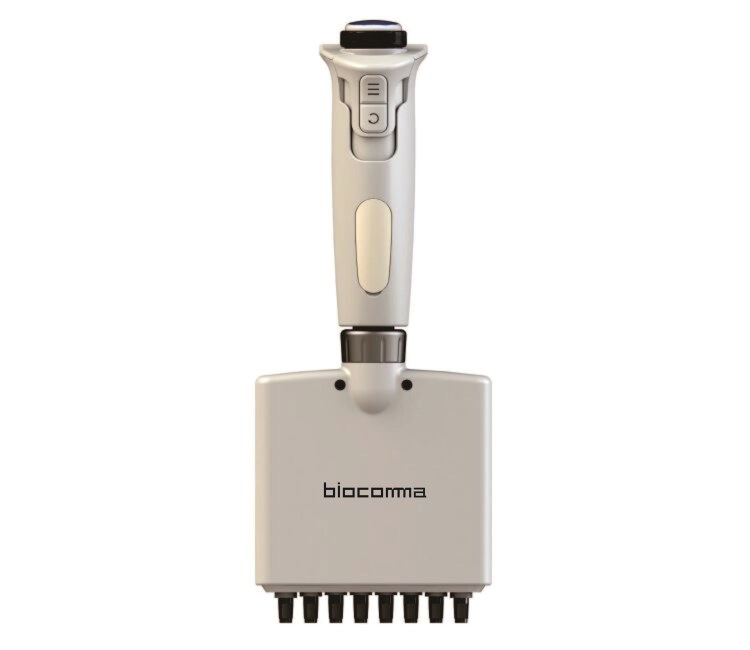 biocomma® Multi-Channel Electronic Pipettes
Biocomma offers 8- and 12-channel Electronic pipettes with excellent performance and affordable pricing.
Details
Accurate
biocomma® electronic pipettes deliver extreme accuracy, due to our innovative electronic manipulating structure and high-performance motor.
Each pipette is calibrated according to ISO 8655:2002 standard.
Comfortable
biocomma® electronic pipettes' light-weight, ergonomic design make every operation comfortable. Large color LCD display and friendly menu show settings and status intuitively.
Powered by an 800 mAh Lithium ion battery, the pipettes help your laboratory work for one day.
Versatile
biocomma® electronic pipettes have 3 basic pipetting modes: forward pipetting, manual pipetting, multi-aspirating. By combining these basic modes, more complex modes can be achieved.
Order information:
| Cat. # | Name | Volume range | Increment | Qty. |
| --- | --- | --- | --- | --- |
| 801211 | 8-Channel Electronic Pipettes | 0.2-10 μL | 0.01 μL | EA |
| 801221 | 8-Channel Electronic Pipettes | 5-100 μL | 0.1 μL | EA |
| 801231 | 8-Channel Electronic Pipettes | 10-300 μL | 0.5 μL | EA |
| 801411 | 12-Channel Electronic Pipettes | 0.2-10 μL | 0.01 μL | EA |
| 801421 | 12-Channel Electronic Pipettes | 5-100 μL | 0.1 μL | EA |
| 801431 | 12-Channel Electronic Pipettes | 10-300 μL | 0.5 μL | EA |
Contact Us
| | |
| --- | --- |
| Contacts : | Biocomma Limited |
| Phone : | 0086-755-25431879 |
| Fax : | 0086-755-25498726 |
| Email : | commashop08@biocomma.cn |
| Website : | www.biocomma.com |
| Address : | Ground FL, Bldg. 12, Zhonghaixin Innovation Industrial Center, 12 Ganli 6th Rd., Ganli Industrial Park, Jihua St., Longgang Dist., Shenzhen, Guangdong, 518114 P.R. China |