Wallelut™ Lipoclean Lipid Removal Cartridges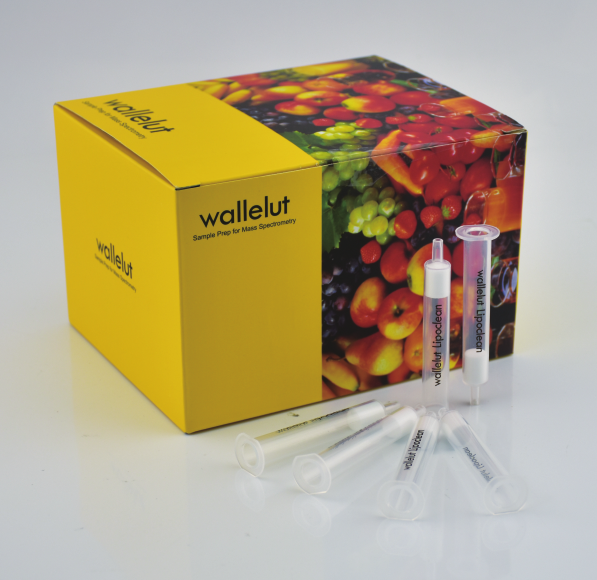 Wallelut™ Lipoclean Lipid Removal Cartridges
Wallelut™ Lipoclean, is an efficient phospholipid removal product, which was inspired by the fictional character WALL-E from the disney film.
Details
wallelut™ Lipoclean Lipid Removal Cartridges, suitable for the purification process with fatty samples, can capture lipid interferences which can cause ion suppression. It can do quantitative analysis of multiple veterinary drugs residues in meat, improve the recoveries of target analytes and maximally reduce the instrument maintenance fee.
Product Features
Effectively remove lipid, lower ion inhibitory effect.
One-time dispose multiple veterinary drug residue targets, saving test cost.
Easy and simple to handle, consistent recoveries.
Order Information
Cat.#

Description

Qty.

W310-0115

wallelut Lipoclean Lipid Removal Cartridge ,

300 mg/3 mL



50pcs/box

C215018

CommaSil ODS(2.1mm×

50 mm, 1.8

μ

m)



1pcs/ box

BCM2500

CommaMix Multi-functional Vortexer

1set/box

Experimental Diagram
GC-MS/MS matrix purification effect comparison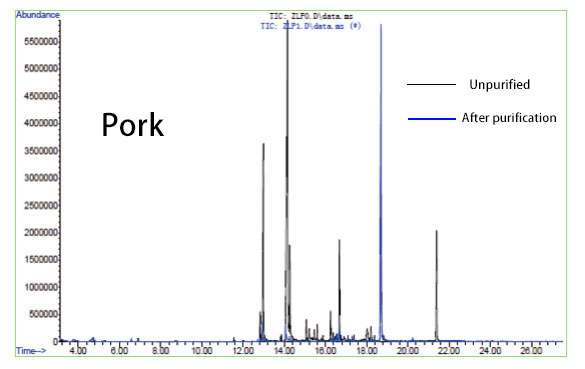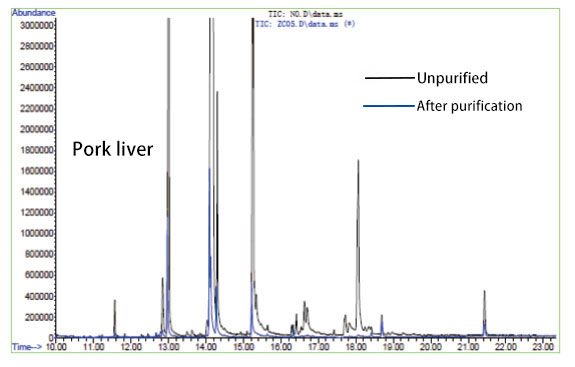 Experimental Results
Recovery(%)




Substance




Brand A




Brand W




Lipoclean



Lipoclean

74.96
75.15
71.40
Tebulin

65.06
70.48
72.54
Salbutamol

70.33
70.33
82.84
Lake dopamine

78.52
114.01
87.46
clenbuterol

85.81
111.30
75.57
Sulfamethazine

84.13
79.92
81.86
Sulfadimethylpyrimidine

83.97
121.17
80.71
sulfadimethoxine

78.93
116.73
77.53
Sulfadoxin

96.88
78.48
72.96
Sulfaquinoxaline

94.57
67.99
69.15
Sulfamethoxazole

67.21
128.20
79.36
Amantadine

80.45
115.32
91.23
Ofloxacin

63.84
120.01
69.93
Norfloxacin

71.71
117.07
76.24
Ciprofloxacin

75.24
113.07
73.79
Lomefloxacin

75.14
19.68
75.13
Chloramphenicol

95.96
83.98
81.01
Florfenicol

119.19
117.9
92.11
Olaquindox metabolite

60.55
108.43
73.62
Contact Us
| | |
| --- | --- |
| Contacts : | Biocomma Limited |
| Phone : | 0086-755-25431879 |
| Fax : | 0086-755-25498726 |
| Email : | commashop08@biocomma.cn |
| Address : | Ground FL, Bldg. 12, Zhonghaixin Innovation Industrial Center, 12 Ganli 6th Rd., Ganli Industrial Park, Jihua St., Longgang Dist., Shenzhen, Guangdong, 518114 P.R. China |