M96 Nucleic Acid Extraction System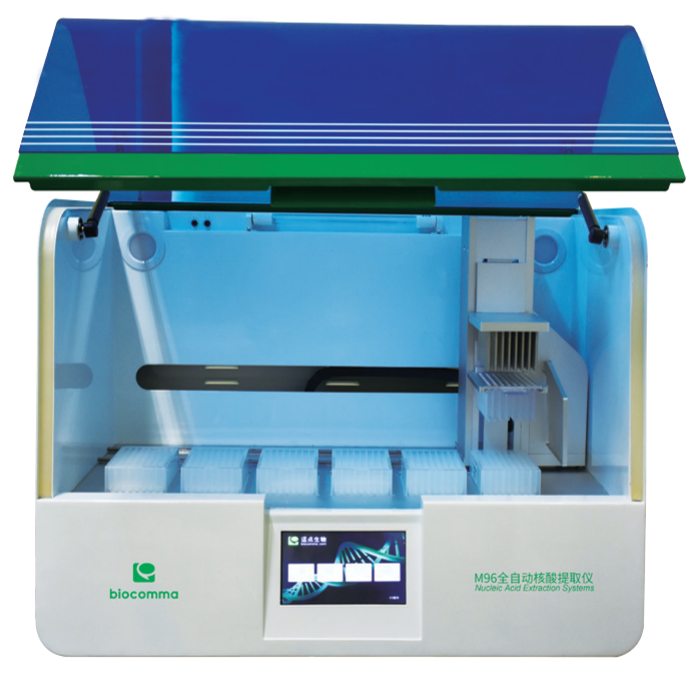 M96 Nucleic Acid Extraction System
Based on magnetic bead adsorption and separation automated extraction method, M96 Nucleic Acid Extraction Systems could overcome the disadvantages of traditional nucleic acid extraction methods, and achieve an rapid, efficient preparation of 96 samples at a time. With corresponding nucleic acid extraction reagents, it can process various sample types such as serum, plasma, whole blood, swabs, feces, tissues,
paraffin sections, bacteria, fungi, etc., and used for disease prevention and control, animal quarantine, clinical diagnosis, entry-exit inspection Quarantine, Food and Drug Administration, Forensic Medicine, Teaching and Scientific Research.

Details
Features
Temperature module: Excellent temperature control ability, which can keep the module at 4 ~100°C. Through semiconductor refrigeration technology, the temperature can quickly reach the set value. After the extraction is completed, the temperature of station 6 is automatically reduced to 4°C, and the DNA is stored;
Sample protection: M96 has functions such as power- on self-test, power-off protection, high- temperature alarm, and over-temperature protection, which can minimize the loss of samples during the use of the instrument;
Optimized motion design: the use of modular linearmotion design makes it more convenient for users;
Motor protection: The magnet motor remains stationary during work, which extends the life of the magnet motor and the slide rail;
Ultra-quiet operation: unique structural design, lowmechanical sound during operation, and does notaffect the laboratory environment;
Autonomous programming control: the program can bevisually touched and freely edited, and it can be stored>100 groups of programs;
Open platform: suitable for multiple nucleic acid extraction schemes based on nano-magnetic beads;
Pollution control: The unique sample cross- contamination control system effectively prevents sample contamination.
Instrument parameters
| | |
| --- | --- |
| Product Name | M96 Nucleic Acid Extraction Systems |
| Model | M96 |
| Sample throughput | 1-96 |
| Volume | 20~1000 μL |
| Consumable | 96-well deep plate + magnetic rod cover |
| Recovery | ≥99% |
| Purification hole difference(CV) | <5% |
| Operation humidity | 30%~80% |
| Operation temperature | 10℃~40℃ |
| Heating temperature | Lysis heating temperature: RT+5℃~125℃ Elution heating temperature: RT +5℃~125℃ |
| Vibration | 1-6 adjustable |
| Disinfection and decontamination | UV light |
| Reagent type | Magnetic bead nucleic acid extraction reagent |
| Interface | Embedded integrated touch screen operation |
| Program management | New, edit and delete, free and flexible editing and extraction programs |
| Connector | USB |
| Dimensions | 76 cm*48 cm*57 cm |
| Power | AC 100-240VAC, 4.0A, 50/60Hz |
| Net weight | 59kg |
Order information
| | | |
| --- | --- | --- |
| Cat. # | Description | Qty. |
| NAES-96 | M96 Nucleic Acid Extraction Systems | 1EA/Box |
| 96WMS | 96-Magnetic Bar Cover | 10/PK |
| 96WP-S022 | 96-Well Square Deep Well Plates, 2.2 mL, U-Bottom | 24/Box |
| BNP027-3E | Virus DNA/RNA extraction kit (Prepacked Magnetic Beads, MB96) | 96preps/box |
Operation video :

Contact Us
| | |
| --- | --- |
| Contacts : | Biocomma Limited |
| Phone : | 0086-755-25431879 |
| Fax : | 0086-755-25498726 |
| Email : | commashop08@biocomma.cn |
| Address : | Ground FL, Bldg. 12, Zhonghaixin Innovation Industrial Center, 12 Ganli 6th Rd., Ganli Industrial Park, Jihua St., Longgang Dist., Shenzhen, Guangdong, 518114 P.R. China |